Paper: Obfuscation in Android malware, and how to fight back
Posted by Virus Bulletin on Jul 2, 2014
Axelle Apvrille and Ruchna Nigam look at both off-the-shelf products and custom obfuscation techniques.
After a relatively slow start, in recent years mobile malware has really taken off. In many ways, mobile malware has followed the same path as taken by malware targeting desktop PCs. We have seen mobile adware, spyware, fake anti-virus, banking trojans, 'police ransomware' and recently even file-encrypting ransomware.
As with desktop malware, mobile malware commonly uses obfuscation to hide its payloads from analysts' eyes and to make detection by security products more difficult. But, as the underlying operating systems are different, so are the obfuscation techniques used.
Today, we publish a paper by Axelle Apvrille and Ruchna Nigam, two researchers from Fortinet in France, on obfuscation in Android malware. In the paper, they analyse both off-the shelf obfuscation tools and custom obfuscation techniques written by malware authors. They also look ahead at how obfuscation might develop in the future, and at how such future techniques may be detected.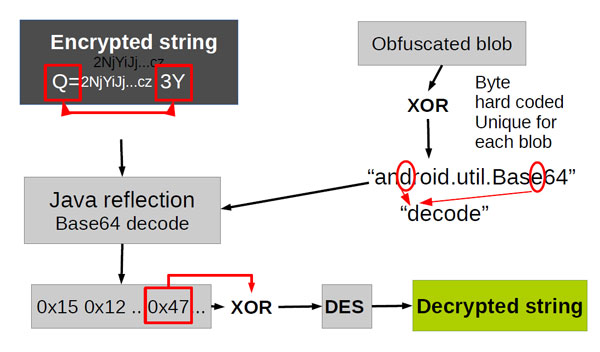 As of this month, all papers published through Virus Bulletin are available free of charge. You can download this paper here in HTML format, or here as a PDF (no registration required).
If you are interested in Android malware, you may also like the two-part analysis (1, 2) of 'Zitmo' ('Zeus-in-the-Mobile'), written by Axelle with her colleague Kyle Yang in 2011.

Posted on 02 July 2014 by Martijn Grooten
Latest posts:
In a paper presented at VB2019, Cisco Talos researchers Warren Mercer and Paul Rascagneres looked at two recent attacks against DNS infrastructure: DNSpionage and Sea Turtle. Today we publish their paper and the recording of their presentation.
VB has analysed a malicious spam campaign targeting German-speaking users with obfuscated Excel malware that would likely download Dridex but that mostly stood out through its size.
We publish a paper by researchers from ESTsecurity in South Korea, who describe a fuzzy hashing algorithm for clustering Android malware datasets.
Having returned from a summer hiatus, Emotet is back targeting inboxes and, as seen in the VBSpam test lab, doing a better job than most other malicious campaigns at bypassing email security products.
Those working in the field of infosec are often faced with ethical dilemmas that are impossible to avoid. Today, we publish a VB2019 paper by Kaspersky researcher Ivan Kwiatkowski looking at ethics in infosec as well as the recording of Ivan's…