VB2018 paper: Unpacking the packed unpacker: reversing an Android anti-analysis library
Posted by Martijn Grooten on Jan 14, 2019
Though still relatively new (the first VB conference paper on Android malware was presented in 2011), malware targeting the Android mobile operating system has evolved quickly, in terms of both quantity and quality. Many of the characteristics of desktop malware are now also seen in Android malware – for example, the use of anti-analysis techniques, and the use of libraries for such techniques, is a sign of the commoditization of Android malware.
One such library was found in more than 5,000 Android malware samples, including newer variants of the Chamois ad fraud malware. In reference to its many layers, Google researcher Maddie Stone named the library 'WeddingCake'.
In a paper presented at VB2018 in Montreal, Maddie took apart the library and its many layers – an analysis which will be helpful not just to those who come across WeddingCake in their research, but also for those analysing similar libraries.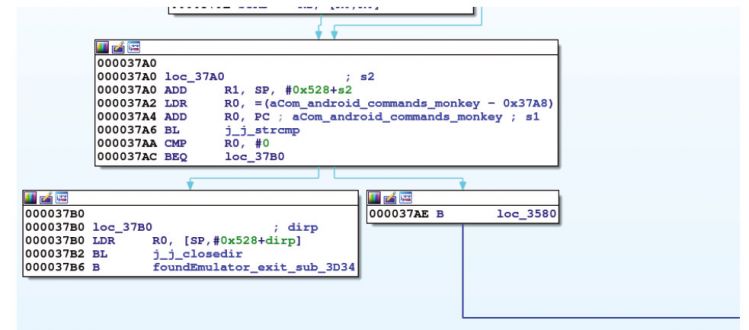 The library checks if the Monkey application is running, which would indicate it is running inside an emulator.
Today, we published Maddie's paper in both HTML and PDF format. We have also uploaded the video of Maddie's talk to our YouTube channel.
A call for papers for VB2019 (London, 2-4 October) will open this week. Sponsor/partner opportunities for VB2019 - the most international threat intelligence conference - are now available.
Latest posts:
Virus Bulletin is seeking nominations for the sixth annual Péter Szőr Award.
New additions to the VB2019 conference programme include a closing keynote address from Thinkst duo Haroon Meer and Adrian Sanabria and a talk on attacks against payment systems.
Virus Bulletin is excited to announce that, thanks to generous sponsorship from Google Android, we are able to offer 20 free tickets to students who want to attend VB2019.
The Lazarus Group, generally linked to the North Korean government, is one of the most notorious threat groups seen in recent years. At VB2018 ESET researchers Peter Kálnai and Michal Poslušný presented a paper looking at the group's various…
Virus Bulletin is proud to sponsor this year's BSides London conference, which will take place next week, and we have a number of tickets to give away.