VB2018 paper: From Hacking Team to hacked team to…?
Posted by Martijn Grooten on Jan 18, 2019
It is good practice not to mock or laugh at hacking victims. But when the victim is a company that itself is in the business of hacking and has a habit of selling its products and services to governments with dubious human rights records, few could help but smile at the irony.
This was the case when Hacking Team was breached in 2015 and details of its customers were published. Worse, from the Italian company's point of view, was the fact that its source code, including several zero-day vulnerabilities, was leaked.
While several of the leaked vulnerabilities were being used by other attackers (a 2017 paper by researchers from F-Secure, for instance, looked how this was done by the Callisto group), Hacking Team managed to secure new funding, and early in 2018 new activities were spotted in the wild by ESET researcher Filip Kafka.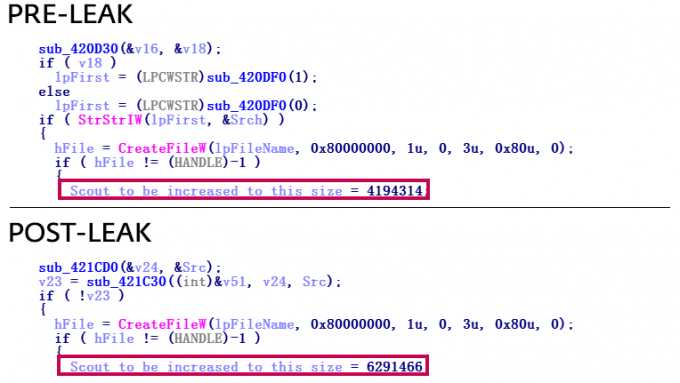 The size of Hacking Team's 'Scout' first-stage malware changed between the pre- and post-leak versions.
Filip wrote a technical paper about these new activities, which he presented at VB2018 in Montreal last year. Today, we publish Filip's paper in both HTML and PDF format and we have also uploaded the video of Filip's presentation to our YouTube channel.
In Montreal, Filip's presentation was followed by one from Masashi Nishihata and John Scott Railton of The Citizen Lab that we previously published. Their talk focused on digital threats to civil society, in which companies like Hacking Team play a dubious role, and thus nicely complements Filip's technical presentation.
Have you analysed spyware used by governments? Or some other kind of digital threat? Why not submit an abstract for VB2019, which will take place in London, 2-4 October; the call for papers is open until 17 March.
Latest posts:
First advertised as an information stealer and keylogger when it appeared in underground forums in 2015, LokiBot has added various capabilities over the years and has affected many users worldwide. In a new paper researcher Aditya Sood analyses the…
In a presentation at VB2019 in London, Virtru's Andrea Limbago described how, by exploring data sharing challenges through a socio-technical lens, it is possible to make significant gains toward the secure sharing systems and processes that are vital…
Attor is a newly discovered cyber-espionage platform, use of which dates back to at least 2014 and which focuses on diplomatic missions and governmental institutions. Details of Attor were presented at VB2019 in London by ESET researcher Zuzana…
With the call for papers for VB2020 currently open, we explain why, whether you've never presented before or you're a conference circuit veteran, if you have some interesting research to share with the community we want to hear from you!
At VB2019 in London, Kaspersky researcher Santiago Pontiroli presented a paper on the growing illegal economy around video game cheats and its parallels with the malware industry. Today we publish both Santiago's paper and the recording of his…