VB2018 video: Foreverdays: tracking and mitigating threats targeting civil society orgs
Posted by Martijn Grooten on Nov 28, 2018
Israel's NSO Group is in hot water following a Haaretz report that revealed that the company negotiated with the Saudi government on the sale of its spyware, leading the local branch of Amnesty International to call for the firm's export licence to be revoked.
The list of targets of the group's Pegasus spyware makes for some uncomfortable reading: it includes an Emirati lawyer, currently serving a ten-year prison sentence over tweets he sent, an acquaintance of the murdered Saudi journalist Jamal Khashoggi and, as reported yesterday, colleagues of a murdered Mexican journalist.
All of these cases were first reported by Toronto's Citizen Lab. Based at the University of Toronto, the Citizen Lab is known for its work on the digital threats facing civil society – a subject on which two of the Lab's researchers, Masashi Nishihata and John Scott Railton, delivered a presentation at VB2018 in Montreal.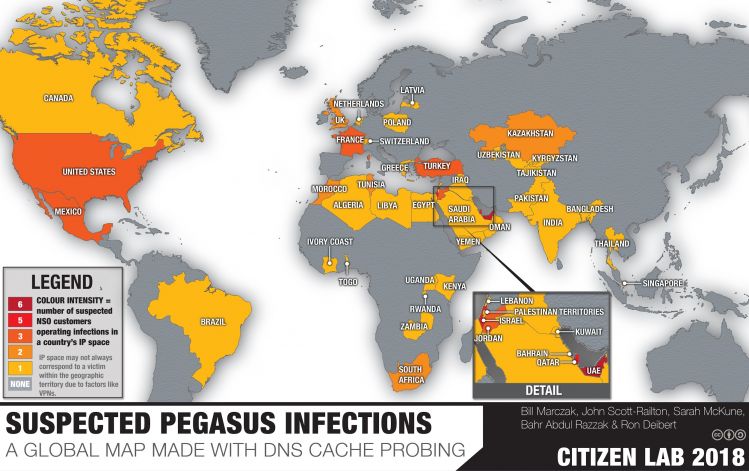 Global distribution of Pegasus spyware; from a September 2018 Citizen Lab report.
However, while Masashi and John did begin their talk by discussing the Pegasus spyware and how it had targeted Canadian permanent resident and Saudi dissident Omar Abdulaziz (a friend of Jamal Khashoggi whose death, a day previously, wasn't known about at the time of the presentation), their main argument was that such attacks using zero-days are actually the exception. Aptly titled 'foreverdays', their talk made the important point that malware targeting civil society tends to be "preventable, curable and technically boring" – the digital equivalent of tuberculosis rather than ebola.
Today we have uploaded the video of Masashi and John's presentation to our YouTube channel. They conclude their presentation by calling on the security industry to give civil society targets extra attention when they are found.
Latest posts:
In a paper presented at VB2019 in London, researchers Miriam Cihodariu (Heimdal Security) and Andrei Bogdan Brad (Code4Romania) looked at how surveillance is represented in fiction and how these representations are shaping people's attitudes to…
At VB2019 in London industry veterans Righard Zwienenberg and Eddy Willems took a detailed look at the relationship between past and current cyber threats. Today, we publish both their paper and the recording of their presentation.
Virus Bulletin is recruiting for a person to be the public face of the company
At VB2019 in London, ZEROSPAM researchers Pierre-Luc Vaudry and Olivier Coutu discussed how email clustering could be used to detect malicious Emotet emails that hijacked existing email threads. Today we publish the recording of their presentation.
Today we publish a VB2019 paper from Lion Gu and Bowen Pan from the Qi An Xin Threat Intelligence Center in China in which they analysed an APT group dubbed 'Poison Vine', which targeted various government, military and research institutes in China.