Romanian university website compromised to serve Neutrino exploit kit
Posted by Martijn Grooten on Jul 28, 2016
This blog post was written by Martijn Grooten and Adrian Luca.
Like every summer, millions of prospective students around the world have been taking entry exams for the university courses they want to attend. Imagine how horrible it would be if those students, after visiting the website of their university of choice, suddenly found all of their personal files encrypted by ransomware.
This is exactly what may have happened in Romania, as the website of the Carol Davila University of Medicine and Pharmacy (which, perhaps tellingly, has been created using Joomla) has been compromised as part of the 'pseudo-Darkleech' campaign.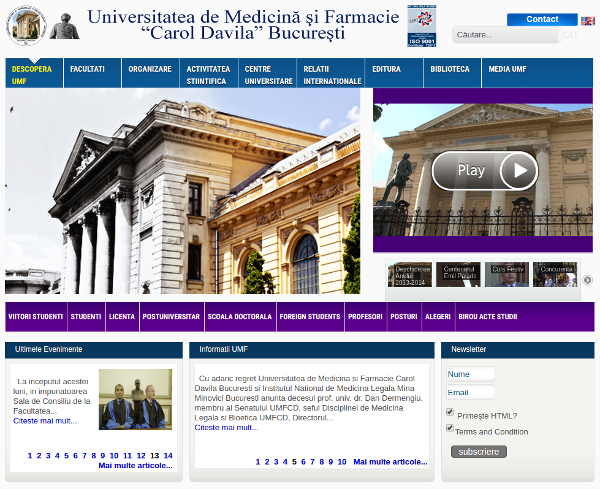 In this campaign, an iframe is inserted into the HTML code of the targeted website (hidden using CSS), into which malicious code is loaded. Following the disappearance of the Angler exploit kit last month, pseudo-Darkleech now usually serves the Neutrino exploit kit. Indeed, this is what we observed in this case.
While we did not catch the payload, it is usually the CryptXXX ransomware that is served. CryptXXX is one of the most prevalent kinds of ransomware in circulation today, and one of those which has implemented its crypto correctly – hence no decryption tools are available. 
At the time of writing, hidden iframes are still being injected into the affected university's website. We have contacted the university.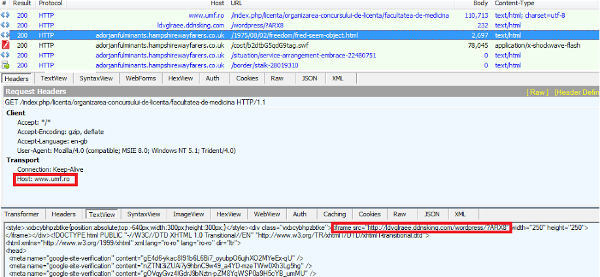 If you are interested in keeping track of this and related campaigns, Brad Duncan's malware-traffic-analysis.net is an excellent source. Meanwhile, the VBWeb tests measure the ability of security products to block web-based attacks, in particular exploit kits.
Several talks at VB2016 deal with ransomware and exploit kits, while there is also a Small Talk that addresses  the question of how the industry can work together to stay ahead of exploit kits. (Registration for VB2016 is now open.)
Update: We have been contacted by Malwarebytes researcher Jérôme Segura, one of the leading experts when it comes to exploit kits, who told us that the payload in this case is in fact CrypMIC, which mimics CryptXXX. At VB2016, Jérôme and his colleague Chris Boyd will present a paper on malvertising, one of the most common ways for exploit kits to spread.
Latest posts:
In a paper presented at VB2019 in London, researchers Miriam Cihodariu (Heimdal Security) and Andrei Bogdan Brad (Code4Romania) looked at how surveillance is represented in fiction and how these representations are shaping people's attitudes to…
At VB2019 in London industry veterans Righard Zwienenberg and Eddy Willems took a detailed look at the relationship between past and current cyber threats. Today, we publish both their paper and the recording of their presentation.
Virus Bulletin is recruiting for a person to be the public face of the company
At VB2019 in London, ZEROSPAM researchers Pierre-Luc Vaudry and Olivier Coutu discussed how email clustering could be used to detect malicious Emotet emails that hijacked existing email threads. Today we publish the recording of their presentation.
Today we publish a VB2019 paper from Lion Gu and Bowen Pan from the Qi An Xin Threat Intelligence Center in China in which they analysed an APT group dubbed 'Poison Vine', which targeted various government, military and research institutes in China.