AfricaHackon 2019: a great event and a reminder that security is global
Posted by Martijn Grooten on Aug 19, 2019
It was a few years ago that I first learned of AfricaHackon, Africa's premier IT security conference. It led me to invite Tyrus Kamau, one of the event's organisers, to speak at VB2017 in Madrid in a presentation that was very well received. This year, this invitation was returned and thus I travelled to the Kenyan capital Nairobi to speak at the 6th edition of this event.

I am very glad I did. It was a great, well-organised conference with many excellent quality talks from speakers around the world, though predominantly from Kenya itself. It was worth travelling halfway around the world to see talks on a wide range of topics such as smart plugs, web app security and legal compliance. If there is one good thing the Internet has done, it is to make the same tools and knowledge available to people everywhere, regardless of location.
But more than an event with good quality content, AfricaHackon served as a reminder that cybersecurity is a really global phenomenon that affects every country and community and that is being dealt with successfully around the world too. Apart from a major conference, Kenya also hosts a government-funded cybersecurity innovation hub, as well as a community for women in cybersecurity.
But as global as cybersecurity is, it often has to deal with unique local circumstances, from apparently locally-written keyloggers missed by many anti-virus products, to local regulations that have to be complied with. Moreover, different countries and regions use different systems that come with their own threat models, from Kenya's M-Pesa SMS-based mobile payment system (which I witnessed being used to pay for restaurant bills, taxis and entrance tickets) to Brazil's Boleto.
To make sure we don't focus solely on what happens in the West, we need to ensure people from around the world speak at our industry conferences. (This year's Virus Bulletin conference features speakers from all continents but Antarctica.) But because this isn't always practical or possible (AfricaHackon was started by people who couldn't get a visa to attend Defcon), we should also aim to use part of our travel budgets to attend and speak at these local events around the world. We get to see some pretty amazing places too (at how many conference venues can you see sacred ibises hovering in the skies above you?) and as an added bonus increase our recruitment pool.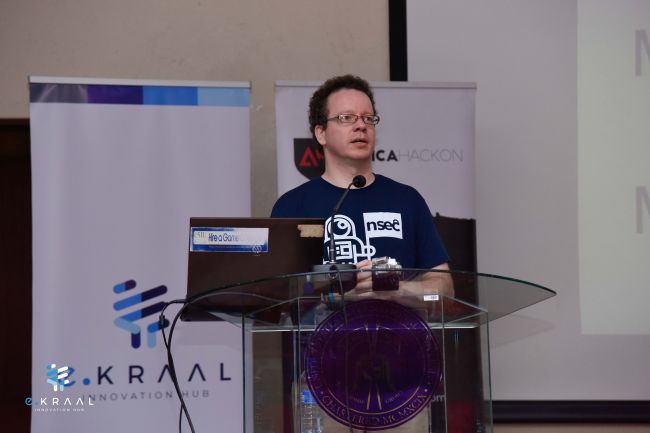 Latest posts:
In a paper presented at VB2019, Cisco Talos researchers Warren Mercer and Paul Rascagneres looked at two recent attacks against DNS infrastructure: DNSpionage and Sea Turtle. Today we publish their paper and the recording of their presentation.
VB has analysed a malicious spam campaign targeting German-speaking users with obfuscated Excel malware that would likely download Dridex but that mostly stood out through its size.
We publish a paper by researchers from ESTsecurity in South Korea, who describe a fuzzy hashing algorithm for clustering Android malware datasets.
Having returned from a summer hiatus, Emotet is back targeting inboxes and, as seen in the VBSpam test lab, doing a better job than most other malicious campaigns at bypassing email security products.
Those working in the field of infosec are often faced with ethical dilemmas that are impossible to avoid. Today, we publish a VB2019 paper by Kaspersky researcher Ivan Kwiatkowski looking at ethics in infosec as well as the recording of Ivan's…