Haroon Meer and Adrian Sanabria to deliver VB2019 closing keynote
Posted by Martijn Grooten on Jun 25, 2019
We are very excited to announce that the closing keynote for VB2019 will be delivered by Haroon Meer and Adrian Sanabria of Thinkst, the company that was founded by Haroon and recently joined by Adrian.
Haroon is a long-time researcher and public speaker, best known for his thought-provoking ideas on security research and the industry alike. (We don't know why he has never spoken at the Virus Bulletin conference before!) His colleague and fellow keynote speaker is a VB veteran: Adrian gave a well-received presentation at VB2016 on the future of endpoint security.
Aside from the closing keynote, we are also excited to announce the addition of a talk on the evolution of attacks against payment systems, in which Saher Naumaan (BAE Systems Applied Intelligence) and Irving Méreau (SWIFT) will provide an inside view of attacks against payment systems. Last year, Saher presented a VB conference paper on wipers.
These two new sessions are added to the more than 40 talks that are already on the programme – one of which features research that made the tech news last night via a TechCrunch write-up: Cybereason researchers Amit Serper and Mor Levi will discuss their investigation into 'Operation SoftCell', an attack against telecommunication providers from around the world.
Don't forget to book your VB2019 ticket to join us in London in October. And if you do it this week, you still qualify for an Early Bird discount. Meanwhile, if you are a student and want to join the world's best threat intelligence conference, why not apply for one of the 20 free student tickets?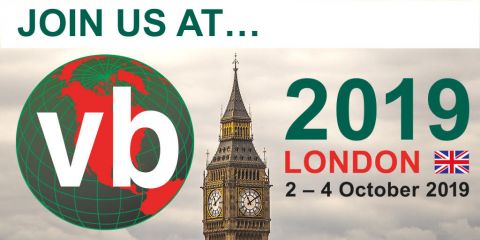 Latest posts:
OpSec mistakes are what lead to many malware discoveries, and in the case of the Geost Android botnet the mistake was a really interesting one. Today we publish the VB2019 paper by Sebastian García, Maria Jose Erquiaga and Anna Shirokova on the Geost…
VB2019 Platinum partner Reason Cybersecurity presents a threat analysis report on the Save Yourself malware.
In a guest blog post VB2019 Platinum partner Reason Cybersecurity looks to the future of threat intelligence.
In a guest blog post VB2019 Silver partner Intezer outlines the importance of paying attention to Linux threats.
On Monday, the infamous Emotet malware resumed its spam campaign to spread the latest version of the malware. As before, the malware successfully bypasses many email security products.