Save the dates: VB2019 to take place 2-4 October 2019
Posted by Martijn Grooten on Jul 6, 2018
While we hope that you have already circled the dates of 3-5 October 2018 in your agendas, and that you will join us and security experts from around the world for VB2018 in Montreal, Canada (book your ticket now, before it's too late!), we wanted to share another set of dates for your diaries: 2-4 October 2019.
These are the dates of VB2019, the 29th Virus Bulletin International Conference. The conference location won't be unveiled until the closing ceremony of VB2018, but I can tell you that it's an exciting location that many of you will want to visit.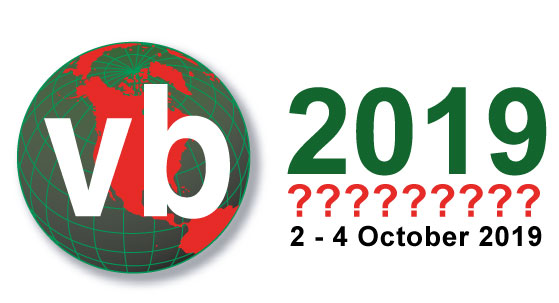 As in previous years, the call for papers for VB2019 will open in January 2019, the programme will be announced in April 2019, and a call for last-minute papers will open in the summer of 2019.
You don't have to wait that long to submit your hot research though: the call for VB2018 last-minute papers – the ten speaking slots set aside for very hot, topical research – will open towards the end of this month.
Sponsorship opportunities for both VB2018 and VB2019 are available; please contact Allison Sketchley (allison.sketchley@virusbulletin.com) for more information. And stay tuned for some exciting announcements regarding VB2018!
Latest posts:
OpSec mistakes are what lead to many malware discoveries, and in the case of the Geost Android botnet the mistake was a really interesting one. Today we publish the VB2019 paper by Sebastian García, Maria Jose Erquiaga and Anna Shirokova on the Geost…
VB2019 Platinum partner Reason Cybersecurity presents a threat analysis report on the Save Yourself malware.
In a guest blog post VB2019 Platinum partner Reason Cybersecurity looks to the future of threat intelligence.
In a guest blog post VB2019 Silver partner Intezer outlines the importance of paying attention to Linux threats.
On Monday, the infamous Emotet malware resumed its spam campaign to spread the latest version of the malware. As before, the malware successfully bypasses many email security products.