First partners of VB2018 announced
Posted by Martijn Grooten on Mar 15, 2018
We are excited to announce that all four Platinum partnerships of VB2018, the 28th Virus Bulletin International Conference, have been filled.
Both ESET and Tencent have partnered with the conference many times before and we are thrilled to see them return, once again at Platinum level. Both companies are very active in various aspects of security and put a lot of resources into research, thus making them ideal partners for our global research-focused conference.
New Platinum partners this year are Comodo and adaware. They, too, are companies that care a great deal about securing their customers and researching new threats, and if you are less familiar with them, this is exactly why we're excited to involve these companies in the event and raise their profile with our global audience.




As Platinum partners, each of the four companies has the opportunity to deliver a 'sponsor presentation' at the conference – though we leave the content of these talks up to the individual partner companies, experience has taught us that they tend to be very interesting talks, far more likely to cover technical details of new security research than generic marketing spiel.
Alongside the Platinum level partnerships, we are also excited to announce the first Silver partner for VB2018: Reason Software, a security company founded by industry veteran Andrew Newman.




Finally, like last year, our 'Getting connected' partner – helping to ensure that those attending the conference will have free access to Wi-Fi for the duration for the event – is Secudit.




Partnering with the Virus Bulletin Conference is an excellent way to increase your company's visibility to the industry's top researchers and security experts, and to get even more out of attending the conference. We still have some partnership opportunities available; please contact Allison Sketchley (allison.sketchley@virusbulletin.com) for more details.
VB2018 will take place in Montreal, Canada, 3-5 October 2018. The call for papers is open until 18 March. The conference programme will be announced in April, when registration for the event will also open.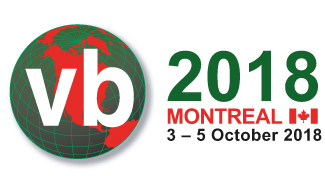 Latest posts:
First advertised as an information stealer and keylogger when it appeared in underground forums in 2015, LokiBot has added various capabilities over the years and has affected many users worldwide. In a new paper researcher Aditya Sood analyses the…
In a presentation at VB2019 in London, Virtru's Andrea Limbago described how, by exploring data sharing challenges through a socio-technical lens, it is possible to make significant gains toward the secure sharing systems and processes that are vital…
Attor is a newly discovered cyber-espionage platform, use of which dates back to at least 2014 and which focuses on diplomatic missions and governmental institutions. Details of Attor were presented at VB2019 in London by ESET researcher Zuzana…
With the call for papers for VB2020 currently open, we explain why, whether you've never presented before or you're a conference circuit veteran, if you have some interesting research to share with the community we want to hear from you!
At VB2019 in London, Kaspersky researcher Santiago Pontiroli presented a paper on the growing illegal economy around video game cheats and its parallels with the malware industry. Today we publish both Santiago's paper and the recording of his…