First partners of VB2018 announced
Posted by Martijn Grooten on Mar 15, 2018
We are excited to announce that all four Platinum partnerships of VB2018, the 28th Virus Bulletin International Conference, have been filled.
Both ESET and Tencent have partnered with the conference many times before and we are thrilled to see them return, once again at Platinum level. Both companies are very active in various aspects of security and put a lot of resources into research, thus making them ideal partners for our global research-focused conference.
New Platinum partners this year are Comodo and adaware. They, too, are companies that care a great deal about securing their customers and researching new threats, and if you are less familiar with them, this is exactly why we're excited to involve these companies in the event and raise their profile with our global audience.




As Platinum partners, each of the four companies has the opportunity to deliver a 'sponsor presentation' at the conference – though we leave the content of these talks up to the individual partner companies, experience has taught us that they tend to be very interesting talks, far more likely to cover technical details of new security research than generic marketing spiel.
Alongside the Platinum level partnerships, we are also excited to announce the first Silver partner for VB2018: Reason Software, a security company founded by industry veteran Andrew Newman.




Finally, like last year, our 'Getting connected' partner – helping to ensure that those attending the conference will have free access to Wi-Fi for the duration for the event – is Secudit.




Partnering with the Virus Bulletin Conference is an excellent way to increase your company's visibility to the industry's top researchers and security experts, and to get even more out of attending the conference. We still have some partnership opportunities available; please contact Allison Sketchley (allison.sketchley@virusbulletin.com) for more details.
VB2018 will take place in Montreal, Canada, 3-5 October 2018. The call for papers is open until 18 March. The conference programme will be announced in April, when registration for the event will also open.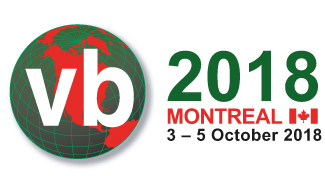 Latest posts:
A VB2019 paper by FireEye researcher Daniel Kapellmann Zafra explained how open source intelligence (OSINT) can be used to learn crucial details of the inner workings of many a system. Today we publish Daniel's paper and the recording of his…
Though active for not much longer than a year, GandCrab had been one of the most successful ransomware operations. In a paper presented at VB2019 in London, McAfee researchers John Fokker and Alexandre Mundo looked at the malware code, its evolution…
At VB2019 in London, Check Point researchers Aseel Kayal and Lotem Finkelstein presented a paper detailing an Iranian operation they named 'Domestic Kitten' that used Android apps for targeted surveillance. Today we publish their paper and the video…
At VB2019 in London, LINE's HeungSoo Kang explained how cryptocurrency exchanges had been attacked using Firefox zero-days. Today, we publish the video of his presentation.
In a paper presented at VB2019, Cisco Talos researchers Warren Mercer and Paul Rascagneres looked at two recent attacks against DNS infrastructure: DNSpionage and Sea Turtle. Today we publish their paper and the recording of their presentation.