The Internet of Bad Things, Observed
Posted by Virus Bulletin on Nov 10, 2015
In his VB2015 keynote address, Ross Anderson described attacks against EMV cards.
The VB2015 opening keynote by Ross Anderson could hardly have been more timely. In his talk "The Internet of Bad Things, Observed", the Cambridge professor looked at various attacks against the EMV standard for payment cards — attacks that have been used to steal real money from real people.
Such cards, often called chip-and-PIN or chip-and-signature, are generally seen as better protected against compromised point-of-sale terminals, which have been the cause of a number of prominent data breaches in North America. On 1 October 2015, the day after Ross's talk, a liability shift took place in the US and Canada, making merchants whose terminals do not support EMV liable for fraudulent transactions.
However, Ross did make it clear that EMV is no silver bullet and that many attack vectors remain, some of which are caused by poor implementations, such as the choice of a counter for a 'random' number.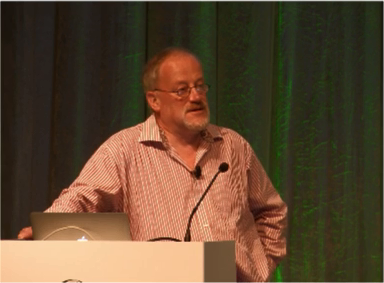 1 October also saw the inauguration of the Cambridge Cloud Cybercrime Centre, whose aim is to collect cybercrime-related data and share this with the academic community. Ross asked the audience — and the wider security community — for data feeds that could be used for academic research.
We have uploaded the video of Ross's talk to our YouTube channel so that it can be watched by those who didn't attend VB2015 in Prague. We also recommend Ross's book Security Engineering, which is available free of charge on Ross's website.
Posted on 10 November 2015 by
Martijn Grooten
Latest posts:
In a paper presented at VB2019 in London, researchers Miriam Cihodariu (Heimdal Security) and Andrei Bogdan Brad (Code4Romania) looked at how surveillance is represented in fiction and how these representations are shaping people's attitudes to…
At VB2019 in London industry veterans Righard Zwienenberg and Eddy Willems took a detailed look at the relationship between past and current cyber threats. Today, we publish both their paper and the recording of their presentation.
Virus Bulletin is recruiting for a person to be the public face of the company
At VB2019 in London, ZEROSPAM researchers Pierre-Luc Vaudry and Olivier Coutu discussed how email clustering could be used to detect malicious Emotet emails that hijacked existing email threads. Today we publish the recording of their presentation.
Today we publish a VB2019 paper from Lion Gu and Bowen Pan from the Qi An Xin Threat Intelligence Center in China in which they analysed an APT group dubbed 'Poison Vine', which targeted various government, military and research institutes in China.