Spam levels fall below 50% for the first time in 12 years
Posted by Virus Bulletin on Jul 20, 2015
Decline not necessarily good news for spam filters.
For the first time in 12 years, less than half of email traffic is spam, Symantec reports in the latest issue of its monthly Intelligence Report (pdf).
Spam is notoriously hard to measure, and different methodologies, definitions and spam sources can give significantly different numbers. On top of that, spam also differs greatly between recipient users and organizations. So the fact that spam has dropped to less than 50 per cent of email isn't particularly newsworthy — but the decline itself is, and suggests at least a four-fold decrease in spam volumes over the past few years.
Volume is one of the problems of spam, and in that sense, the decline is good news. But for spam filters, the picture is more mixed. One the one hand, they will require fewer resources to deal with the email traffic and could thus afford to inspect each individual email more carefully.
On the other hand though, spam filtering is almost entirely reactive, in response to actual spam outbreaks. With fewer spam emails sent, spam campaigns are more likely to stay under the radar. For that reason, spammers may well find that, for them, less is indeed more.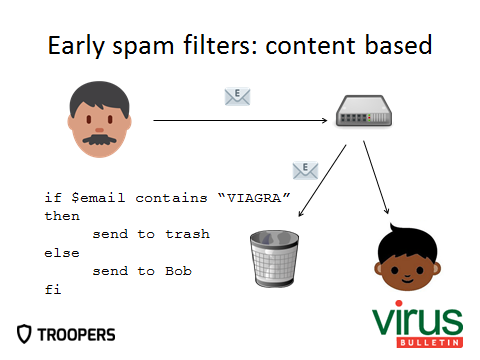 Perhaps spam filters will become mostly content-based again. (Slide from my TROOPERS15 talk.)
Posted on 20 July 2015 by
Martijn Grooten
Latest posts:
Still in-development kit thus far only targets Flash Player vulnerabilities
The call for last-minute papers for VB2019 is now open. Submit before 1 September to have your abstract considered for one of the nine slots reserved for 'hot' research.
Virus Bulletin is seeking nominations for the sixth annual Péter Szőr Award.
New additions to the VB2019 conference programme include a closing keynote address from Thinkst duo Haroon Meer and Adrian Sanabria and a talk on attacks against payment systems.
Virus Bulletin is excited to announce that, thanks to generous sponsorship from Google Android, we are able to offer 20 free tickets to students who want to attend VB2019.