Adobe to patch Flash Player zero-day next week
Posted by Virus Bulletin on Jan 23, 2015
Patch due next week as malvertising leads to Bedep trojan downloader.
As the news of a zero-day vulnerability in Adobe's Flash Player actively being exploited reached the security community, the company made an out-of-band patch available on its website. It now appears that this update - version 16.0.0.287 - patches another vulnerability (CVE-2015-0310), but does not patch this latest flaw, which has been given CVE number CVE-2015-0311.
Adobe says that a patch for the latest vulnerability will be made available next week. It rates the vulnerability as critical and confirms that it is actively being exploited in the wild.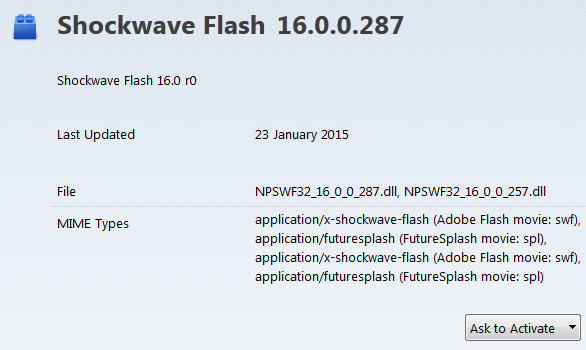 Even if you have the latest Flash Player version installed, making it click-to-play is very important.
Meanwhile, researchers at ZScaler provide more details on the use of the vulnerability in the Angler exploit kit. They say that two legitimate ad networks are being used to serve malicious ads, which redirect users to the exploit kit. This is then used to push the 'Bedep' trojan onto the victim's system.
Bedep performs ad-fraud and click-fraud, thus making money for its owners by showing ads on the victim's PC and faking clicks on such ads. Bedep is also a downloader, which could be used to download other, more harmful kinds of malware onto the machine.
The opportunities ad networks provide for malware authors was the subject of a paper Bromium's Vadim Kotov presented at VB2014. You can read Vadim's paper here in HTML format, or watch the video of the presentation on our YouTube channel.
Posted on 23 January 2015 by
Martijn Grooten
Latest posts:
Today we publish the VB2019 paper by Cybereason researchers Mor Levi, Amit Serper and Assaf Dahan on Operation Soft Cell, a targeted attack against telecom providers around the world.
At VB2019 in London a group of researchers from the Stratosphere Lab at the Czech Technical University in Prague presented a paper in which they analysed and dissected the cyber espionage activities of an APT group in Latin America through the…
In a paper presented at VB2019 in London, researchers Miriam Cihodariu (Heimdal Security) and Andrei Bogdan Brad (Code4Romania) looked at how surveillance is represented in fiction and how these representations are shaping people's attitudes to…
At VB2019 in London industry veterans Righard Zwienenberg and Eddy Willems took a detailed look at the relationship between past and current cyber threats. Today, we publish both their paper and the recording of their presentation.
Virus Bulletin is recruiting for a person to be the public face of the company