VB2014 Paper: Well, that escalated quickly. From penny-stealing malware to multi-million-dollar heists, a quick overview of the Bitcoin bonanza in the digital era
Posted by Virus Bulletin on Nov 4, 2014
Santiago Pontiroli takes us on a rollercoaster ride through cryptocurrency land.
Over the next few months, we will be sharing VB2014 conference papers as well as video recordings of the presentations. Today, we have added 'Well, that escalated quickly. From penny-stealing malware to multi-million-dollar heists, a quick overview of the bitcoin bonanza in the digital era', by Kaspersky's Santiago Pontiroli.
Today's gold rushes don't take people to California or Yukon. Rather they take place on the Internet, where people are mining bitcoins and related cryptocurrencies, sometimes getting very rich in the process, and occasionally losing a lot of money through bugs and blunders.
In his paper, Santiago Pontiroli takes us through the recent history of Bitcoin and the various aspects that matter for computer security. Watching his presentation at VB2014 was akin to a rollercoaster ride. On the one hand, cryptocurrencies are rather exciting — Santiago explained how many people in Latin America see Bitcoin as a way to defeat the deflation their economies are struggling with. On the other hand, it was hard not to feel dizzy and somewhat overwhelmed by the security issues and implications.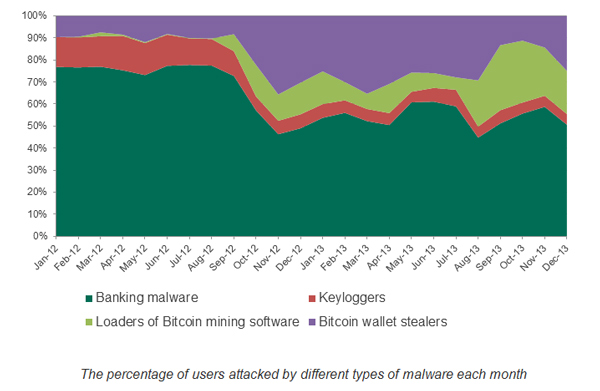 Malware targeting Bitcoin wallets or using other people's resources to mine for cryptocurrencies are perhaps the least of our worries. What about virus code (or worse, child abuse material) ending up in the blockchain? Or the common flaw of transaction malleability? Or the almost existential threat of the "51% attack"?
Cryptocurrencies are here to stay, but they come with their own unique set of problems that we cannot ignore. As Santiago concluded in his presentation, we're not in Kansas anymore.
You can read Santiago's paper here in HTML-format, or download it here as a PDF (no registration or subscription required). You can download the presentation slides here. We have also uploaded the presentation to our YouTube channel.
If you are interested in malware focusing on Bitcoin, make sure you read an article we published last year from another VB2014 speaker, Fortinet researcher Micky Pun, in which she studies several malware families engaged in Bitcoin mining.
Posted on 04 November 2014 by
Martijn Grooten
Latest posts:
At VB2018 in Montreal, Ixia researcher Stefan Tanase presented a thought-provoking paper on the current state of the Internet and the worrying tendency towards raising borders and restricting the flow of information. Today we publish both his paper…
The set-up of the VBSpam test lab gives us a unique insight into the kinds of emails that are more likely to bypass email filters. This week we look at the malspam that was missed: banking and email phishing, Emotet and Bushaloader.
The cybersecurity skills gap has been described as one of the biggest challenges facing IT leaders today. At VB2018 in Montreal, ESET's Lysa Myers outlined some of the things the industry can do to help address the problem. Today we publish Lysa's…
We look forward the Nullcon 2019 conference in Goa, India, at which VB Editor Martijn Grooten will give a talk on the state of malware.
We see a lot of spam in the VBSpam test lab, and we also see how well such emails are being blocked by email security products. Recently some of the emails that bypassed security products included a broken Amazon phishing campaign, a large fake UPS…