Paper: The Hulk
Posted by Virus Bulletin on Oct 8, 2014
Raul Alvarez studies cavity file infector.
Most file infectors increase the length of the infected file, as the malicious code is added as a new section of the host file, or to the last section of that file. 'Cavity' file infectors are different though: they infect files without increasing their size.
Today, we publish a paper by Raul Alvarez, a researcher for Fortinet, in which he studies Win32/Huhk, a virus that implements cavity file infection.
In the paper, Raul explains what happens when an infected file is run, as well as how other files are being infected. Huhk is polymorphic in nature, something which is achieved through a simple XOR operation with a one-byte key.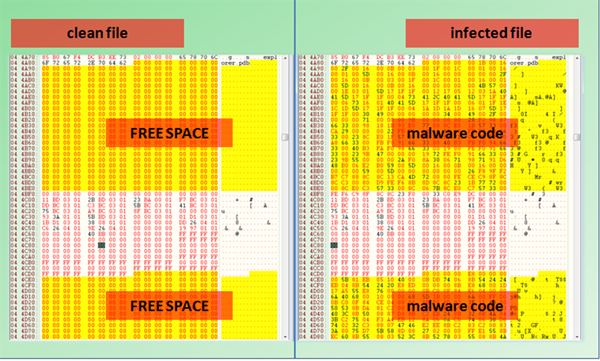 Of course, the virus needs to find a way to hide in the host file without affecting the latter's ability to run. To this end, Huhk looks for continuous memory locations filled with zeros. If the total size of such locations is greater than 7,005 bytes, it is able to infect the file.
You can read the paper here in HTML format or here as a PDF.
If you like this paper, you will probably like two other papers by Raul we published recently: Bird's Nest (on Neshta) and API-EPO (on W32/Daum).

Posted on 08 October 2014 by Martijn Grooten
Latest posts:
At VB2019 in London, Check Point researchers Aseel Kayal and Lotem Finkelstein presented a paper detailing an Iranian operation they named 'Domestic Kitten' that used Android apps for targeted surveillance. Today we publish their paper and the video…
At VB2019 in London, LINE's HeungSoo Kang explained how cryptocurrency exchanges had been attacked using Firefox zero-days. Today, we publish the video of his presentation.
In a paper presented at VB2019, Cisco Talos researchers Warren Mercer and Paul Rascagneres looked at two recent attacks against DNS infrastructure: DNSpionage and Sea Turtle. Today we publish their paper and the recording of their presentation.
VB has analysed a malicious spam campaign targeting German-speaking users with obfuscated Excel malware that would likely download Dridex but that mostly stood out through its size.
We publish a paper by researchers from ESTsecurity in South Korea, who describe a fuzzy hashing algorithm for clustering Android malware datasets.