VB2014 - location, location, location
Posted by Virus Bulletin on Jan 24, 2013
Cat escapes bag as details of VB2014 conference are announced.
Keeping shtum about the dates and details for VB2014 - the 24th Virus Bulletin International Conference - has not been an easy task, so it is with delight and relief that, with contracts in place and legal teams satisfied, we can now announce that VB2014 will take place 24-26 September 2014 at The Westin Seattle, WA, USA.
We are excited to be returning to the Pacific Northwest and for the conference to be visiting Seattle for the first time - we look forward to the hiking, eating, gallery hopping, coffee drinking and sightseeing that the city and its surrounding area has to offer (all outside of conference hours, of course).
We will be issuing a call for papers for VB2014 in December 2013, so keep your eyes peeled then (in the meantime, please submit a proposal for VB2013 Berlin!).
As usual, a range of sponsorship opportunities will be available for VB2014 at Platinum, Gold and Silver sponsorship levels. If you are interested in becoming a sponsor of VB2014 or exhibiting at the event please contact us by emailing conference@virusbtn.com or calling us on +44 1235 555139.
We look forward to seeing you there!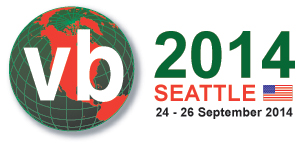 Posted on 28 January 2013 by Helen Martin
Latest posts:
A VB2019 paper by FireEye researcher Daniel Kapellmann Zafra explained how open source intelligence (OSINT) can be used to learn crucial details of the inner workings of many a system. Today we publish Daniel's paper and the recording of his…
Though active for not much longer than a year, GandCrab had been one of the most successful ransomware operations. In a paper presented at VB2019 in London, McAfee researchers John Fokker and Alexandre Mundo looked at the malware code, its evolution…
At VB2019 in London, Check Point researchers Aseel Kayal and Lotem Finkelstein presented a paper detailing an Iranian operation they named 'Domestic Kitten' that used Android apps for targeted surveillance. Today we publish their paper and the video…
At VB2019 in London, LINE's HeungSoo Kang explained how cryptocurrency exchanges had been attacked using Firefox zero-days. Today, we publish the video of his presentation.
In a paper presented at VB2019, Cisco Talos researchers Warren Mercer and Paul Rascagneres looked at two recent attacks against DNS infrastructure: DNSpionage and Sea Turtle. Today we publish their paper and the recording of their presentation.